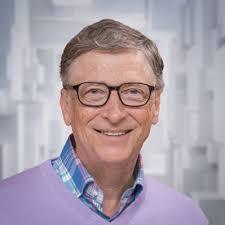 When Melinda and I started our foundation more than a decade ago, we initially focused on inequities in global health. But as we spent more time learning about the diseases of poverty, we started to realize that the poorest people in the world shared an occupation in common: They were small farmers. The conclusion was obvious: They could lift their families up by growing more food.
So six years ago, we decided complement our global health investments with investments in agriculture. Since then, we have committed more than $2 billion to help small farmers in developing countries. It is some of the rewarding work we do.
When you put the right tools in farmer's hands, the results can be magical. A submergence tolerant seed capable of surviving in flood waters can grow into a rice surplus that sends a sick a sick child to the doctor. A micro-irrigation system can boost yields and send her to school. And when that child grows into a healthy and educated young mother, the future is bright.
Today, I am announcing almost $200 million in grants to fund agricultural development that works. Several of these grants extend projects that are already getting great results for farmers. For example, we are re-investing in projects that:
・supported the release of 34 new varieties of drought tolerant
maize
.
・delivered vaccines to tens of millions of livestock.
・and have trained more than 10,000 agro-dealers to equip and train farmers.
The goal is to move from examples of success, to sustainable productivity increases, to hundreds of millions of people moving out of poverty. If we hope to meet that goal, it must be a goal we share. We must be coordinated in our pursuit of it. We must embrace more innovative ways of working toward it. And we must be willing to be measured on our results.
Last summer, I met a cassava scientist in Tanzania named Joseph Ndunguru.
Dr. Ndunguru told me he is, quote, a product of cassava. His mother grew cassava and sold cassava chips to pay for his schooling, walking as far as 30 kilometers to get to her customers.
Now, Dr. Ndunguru has
turned down
lucrative
offers from labs in South Africa, Europe, and the United States to stay in his home country and help more farmers like his mother give their children hope.
Let's make sure that all the products of cassava - and there are millions of them - have the opportunity to grow up strong, get an education, and build a future of productivity and prosperity for everyone.
----------------------------------------
inequity : 不公平
submergence : 浸水、沈没
irrigation : 灌漑、洗浄法
grant : 補助金、助成金、奨学金、認可、授与
maize : とうもろこし、薄黄色
livestock : 家畜
schooling : 学校教育、学費
turn down : 折りたたむ、拒絶する、却下する
lucrative : 有利な、儲かる
----------------------------------------